Mum Micaela shares:
Nellie was born in May 2020. The birth was normal and Nellie weighed 2955 g and was 48 cm tall at birth.
I noticed quite early on that there was something wrong with Nellie, as she could not eat that much. She had difficulty breastfeeding. I switched to bottle feeding but even then Nellie could not get enough food. I asked the child health service for help but they did not think I needed to worry.
Nellie did not grow as she should and lost both length and weight curve. She slept a lot, was pale and generally looked malnourished. Nellie was also always constipated, so we had to help her.
When Nellie was 3.5 months old, she started peeing so badly that I had to go with her to the emergency room. We were then finally admitted and the doctor started a broad investigation. There was a heart examination, an X-ray of Nellie's intestines and lots of samples were taken. The doctors put in cow's milk protein-free replacement and only then did her intestines start and the stool began to work.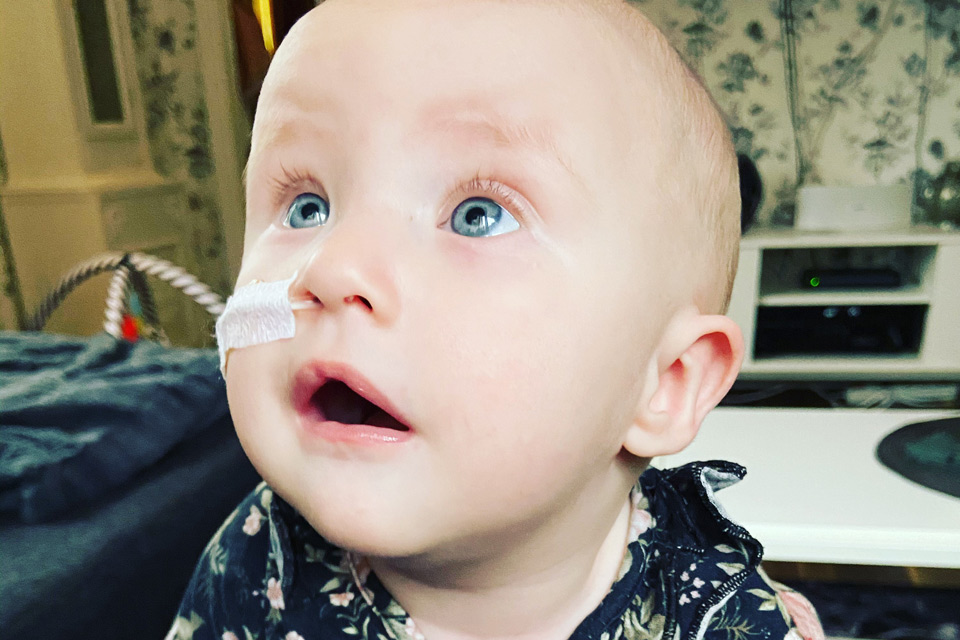 Nellie got a tube in her nose to get nourishment and we were referred to the ear-nose-throat clinic. There it was discovered that Nellie had laryngomalacia / tracheomalacia. She underwent surgery for this in September 2020 and we hoped that everything would turn around after that. That did not happen and Nellie still has her probe. She can not eat by herself even today, she is still growing poorly but gaining weight thanks to her probe. She puts everything in her throat and vomits when we give food through her mouth.
I feel that Nellie is somewhat later in her motor development than our other children are, but she seems to be "involved" mentally. However, she has a bit of a bad balance and can not sit alone yet. She now, at 8 months of age, has difficulty turning from stomach to back and vice versa. Nellie's one foot wants to turn outwards. Now Nellie has got a new doctor who specializes in Gastroenterology (gastrointestinal, liver and liver diseases), but he also does not seem to understand what is wrong with our little girl. The new doctor has also contacted a growth expert.
We parents can only stand and watch how she deteriorates and loses her ability to eat herself more and more. It has felt like we will never get any answers as to why Nellie is ill.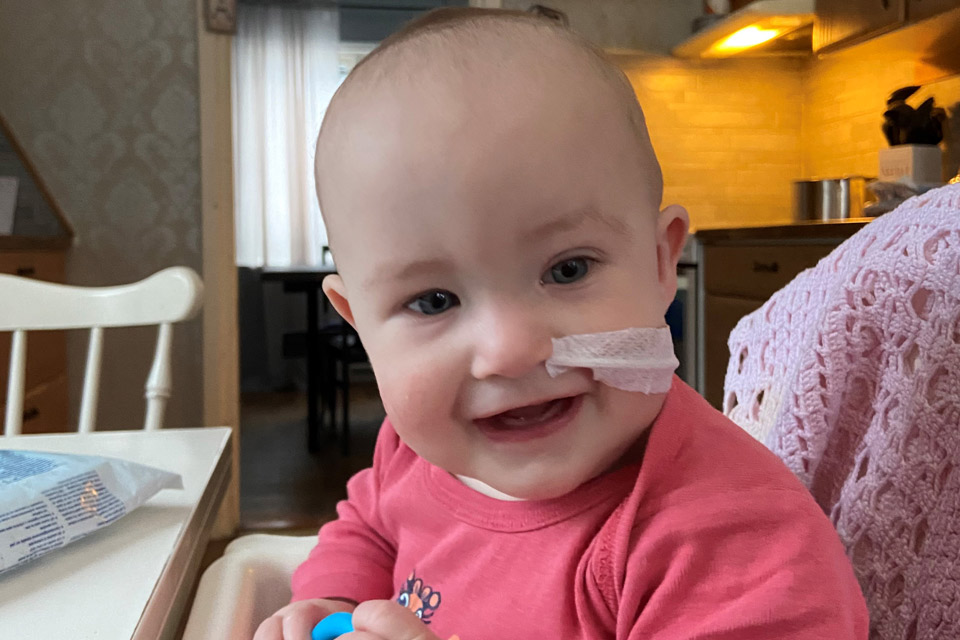 A genetic investigation will be launched in the days focusing on Russell-Silver syndrome and a hope in us parents has been ignited - now hopefully Nellie will soon be diagnosed.