Thelma is born in April 2020.
Thelma has undergone clinical genome sequencing at Karolinska University Laboratory. An analysis of sequence data from her mitochondrial DNA has not shown any molecular reason for her clinical picture. An indistinct variant, m.12613G>A was shown in the analysis. This result has been validated using Sanger sequencing. A supplementary analysis of mitochondrial DNA in blood from me (the mother) has shown that I also have this homoplasmic variant. It is thus highly probable that the variant is an uncommon normal variant, and is not considered to contribute to Thelma's clinical picture. At the moment, re-filtration of the same sequence data is being undertaken using the gene panel test for congenital metabolic diseases which also includes nuclear mitochondrial genes.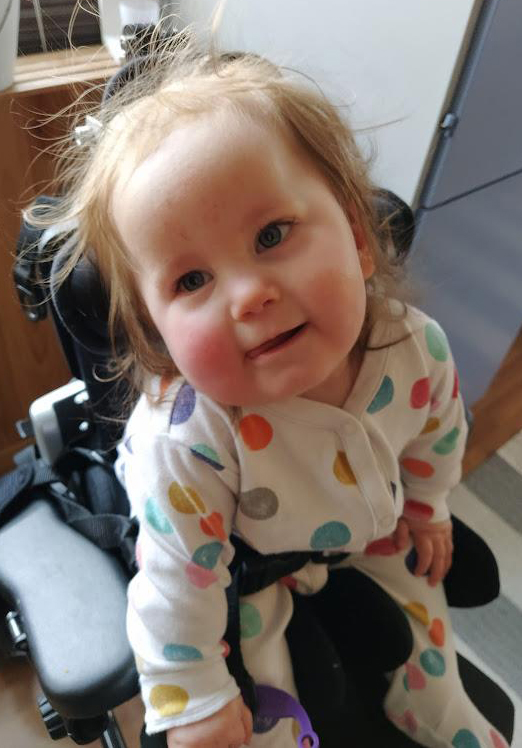 Thelma has feeding problems and has a gastrostomy button; she has extremely low muscle tone, and is not able to eat herself. Her breathing during the nights is irregular; she suffers from vomiting and is not able to cough. She has extremely sparse motor skills. She needs supportive aids when sitting. She is not sufficiently strong to hold her head up, but needs support for this in all positions. She cannot hold her trunk up at all. Has severe hypertension with generally decreased muscle tone.
Thelma is delayed in her psychomotor development. She is at the 3-4 month stage. She cannot sit or move herself on her own. She has low endurance and quickly becomes tired. She has clear hypertension and needs a good deal of assistance and support in her motor development. Her development is very slow.
It is not clear how visual and aural interpretation of impressions takes place in her brain.
Her balance, coordination, motor skills, muscular strength, voluntary motor skills, ability to balance and trunk stability are severely impaired.
Respiratory registration in Stockholm since Thelma suffers from respiratory arrest at night.
Digestion and metabolism functions are very slow.
Thelma becomes slightly discoloured in the lower extremities if, for example, she is held in a sling or lies in the babysitter for too long. Thelma is being monitored at the cardiology clinic because of ASD and PFO and is also on medicine because of her high TSH values.
Thelma is short in height and has small hands and feet. She has a protruding, slightly bulging and plump behind.
Short legs and arms. Chubby thighs and clear creases in her behind and sex organs. Slightly more skin in her neck. A slightly more protruding upper jaw. Two teeth have come in both her upper and lower jaws. She has difficulty in producing a clear laugh and cries very little. She always gets hiccups after laughing. Seemingly laboured laughter and crying. Cries very seldom. Seems highly pain-resistant. Very seldom shows fear. Is generally very satisfied and happy. Curious and completely aware of the members of her family. Shows no signs of shyness, but is worried if I (her mother) am not within Thelma's (visible) range.